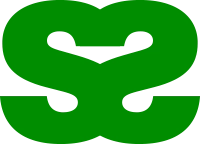 Based in its Paris studios, Sandro's design teams have been creating ready-to-wear collections and accessories with an elegant charm and a distinctive Parisian twist since 1984.

Through the collections, our priority has always been to produce high quality fashion and make luxury and style accessible. Now, in addition to this comes an enhanced duty of responsibility with regard to people and the planet, as well as a desire to be transparent with our customers.

Guided by its founders and creative directors, Evelyne and Ilan Chetrite, SANDRO has developed a genuine community spirit, one that is generous and proud. Season after season, the fashion house has come to feel like an extended family.

We are determined to go above and beyond in our efforts to create more responsible and sustainable fashion. We have defined an ambitious set of goals, but it won't all be plain sailing.

Along the way, we wanted to open the doors of our company even wider to show you the work we're already doing.

Follow us!
OUR MATERIALS AND HOW TO CARE FOR THEM
The starting point for creating our clothing and accessories is the selection and production of the raw materials used to make them. Upstream of our value chains is also where the most significant part of our sector's environmental impact lies.

We take the greatest care in selecting the materials we use. Our aim is to offer our customers high quality materials—like cotton, linen, viscose, silk, wool and cashmere—which are produced and processed using methods with a reduced environmental impact.

Keen to improve the environmental footprint of the materials making up our creations, we are now focusing our efforts on sourcing the materials we use most in our collections sustainably: organic cotton, Responsible Wool Standard (RWS) certified wool, Leather Working Group (LWG) certified leather and recycled polyester. What's more, 100% of our jeans are treated using a process that uses 95% less water than traditional treatments.

These materials represent a real challenge from an economic and supply perspective. Only available in limited quantities, we do everything we can to ensure their availability by strengthening the partnerships we have with our suppliers.

At Sandro, we also want our creations to have a long life and for the beauty of our carefully selected materials to last. This is why our quality experts provide care advice by material to help you look after your pieces in day-to-day life.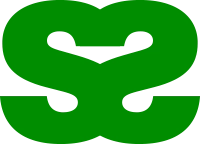 2022
Where we are in 2022:
52% of our men's and women's collections are made using materials and/or manufacturing processes with a lower environmental impact.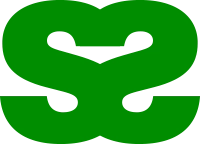 2025
Our commitments for 2025:
80% of our men's and women's collections will be made using materials and/or manufacturing processes with a lower environmental impact.
OUR DEFINITION OF A MORE SUSTAINABLE PIECE
At Sandro, a product is considered more sustainable if it respects one or more of these criteria:
- at least 50% of its main material is organic, recycled or meets criteria for preserving ecosystems (forests, pastureland, etc.).
- its denim is treated using EIM (Environmental Impact Measuring) technology, saving 95% of water compared to traditional treatment techniques
- the tannery, for leather items, conforms to the best industry practices in terms of water consumption, energy consumption and the use of chemicals.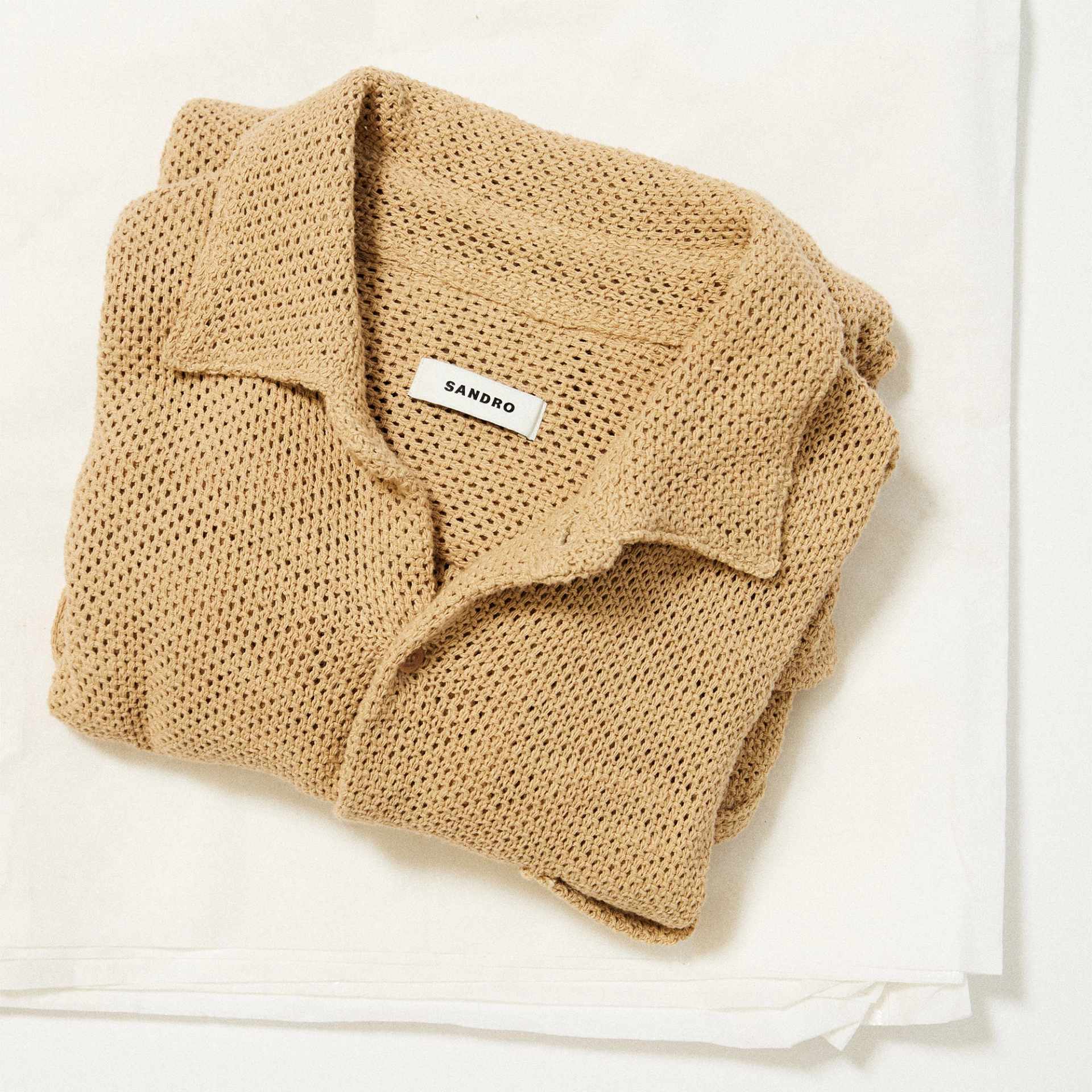 COTTON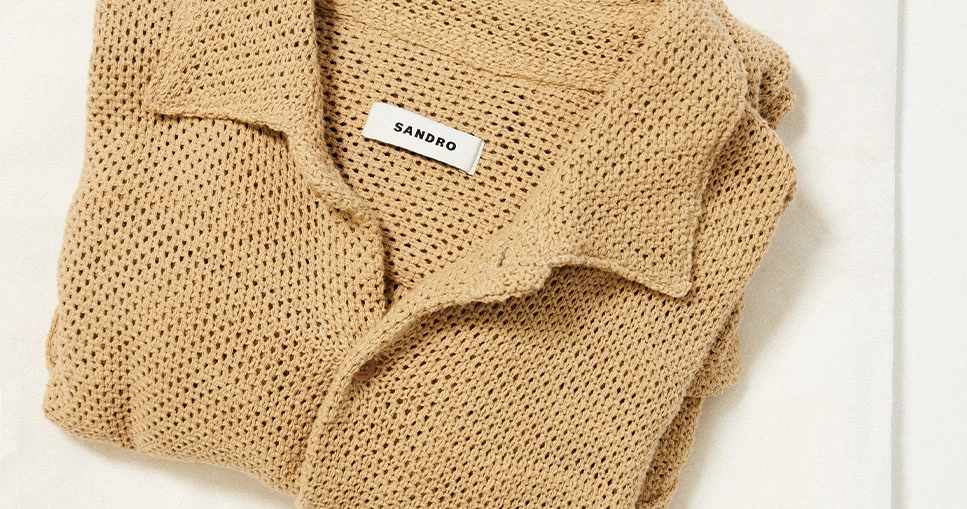 Cotton is the most widely produced natural fibre in the world and one of the most commonly used in the textile industry.

The decision to use organic cotton with a GOTS or OCS certification is both ethical and ecological. From sowing the seeds to harvesting the cotton, the plants are cultivated without pesticides, insecticides or chemical fertilisers, and GMO free. Its cultivation respects ecosystems, does not deplete the soil, consumes less water than conventional cotton and is non-toxic to producers.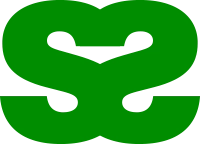 2022
Where we are now:
90% of our T-shirts and sweatshirts and 50% of our full range of cotton products are made from organic cotton.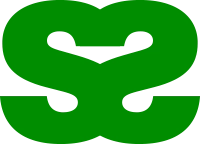 2025
Our commitments:
85% of the full range in organic cotton by 2025.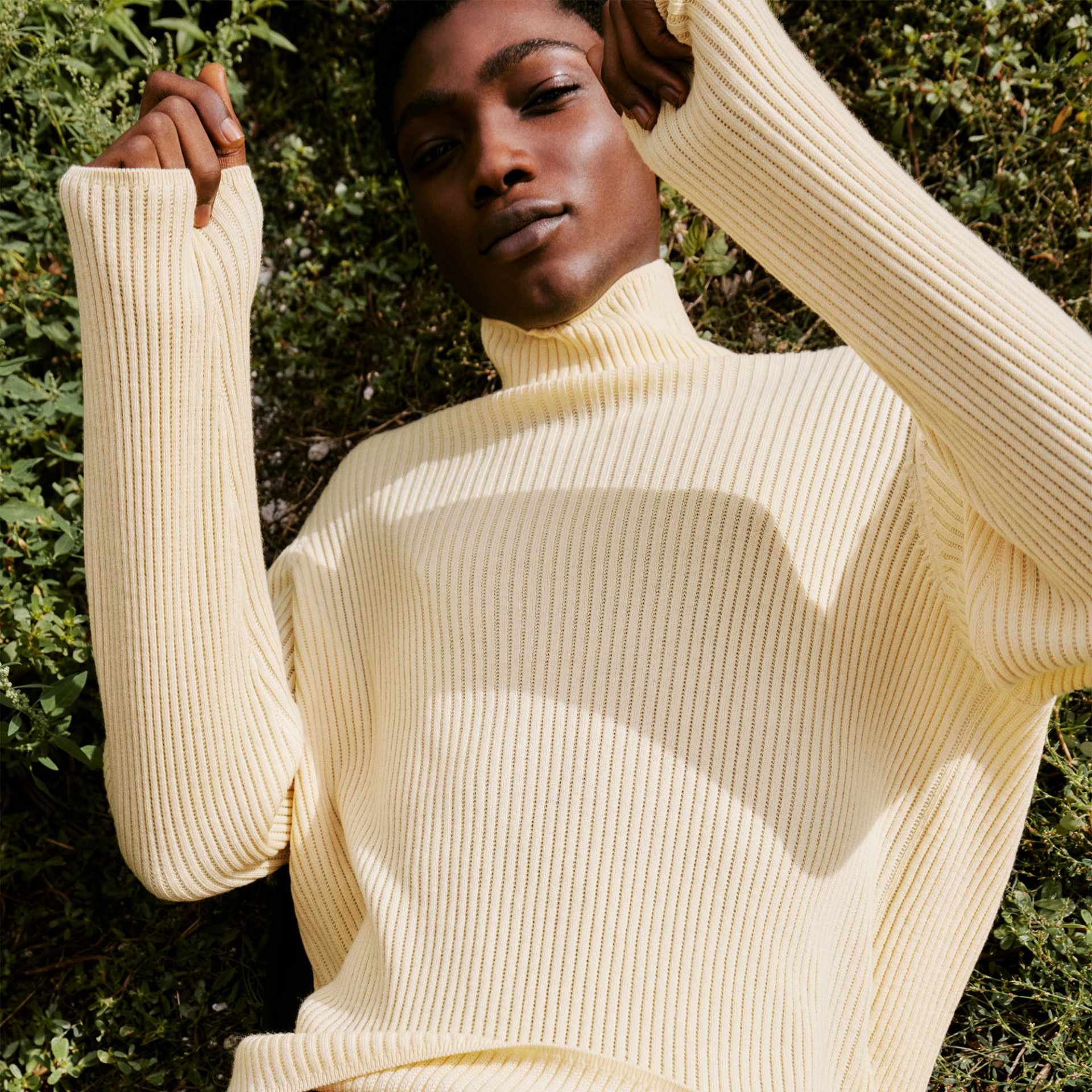 WOOL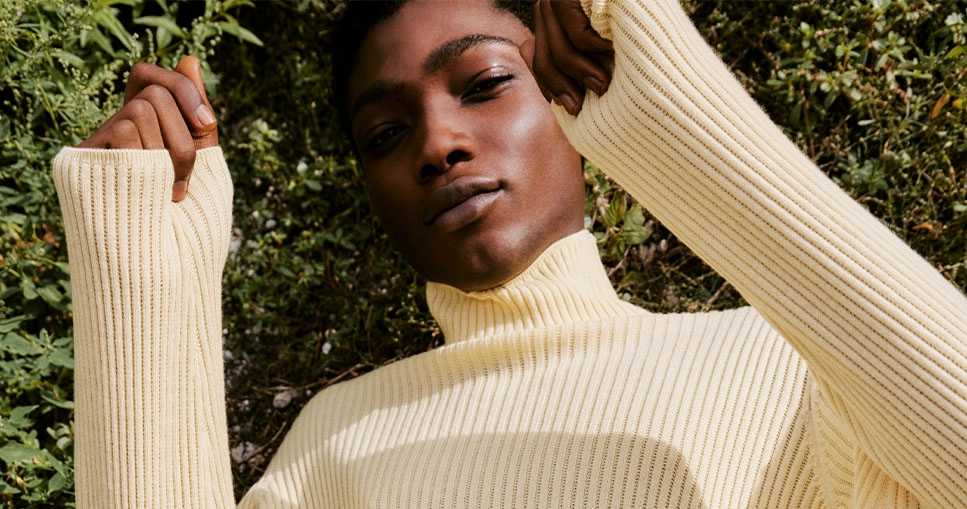 Easily dyed, wool is a multifaceted natural and durable material with proven thermal properties. It can be found in our sweaters, suits, cardigans, dresses, coats and even some of our accessories.

Its main environmental issues are linked to greenhouse gas emissions from livestock and soil degradation caused by overly intensive pasture management. The production of wool can also lead to animal welfare violations.

We are doing everything we can to source certified sheep's wool with a label guaranteeing the protection of ecosystems and animal welfare: Responsible Wool Standard (RWS).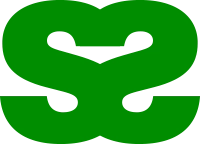 2022
Where we are now:
In 2022, 30% of the wool used by Sandro was farmed using practices that were more respectful of animal welfare and the environment.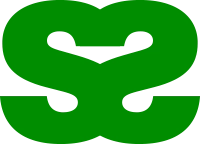 2025
Our commitments:
85% of our wool will be farmed using practices that are more respectful of animal welfare and the environment.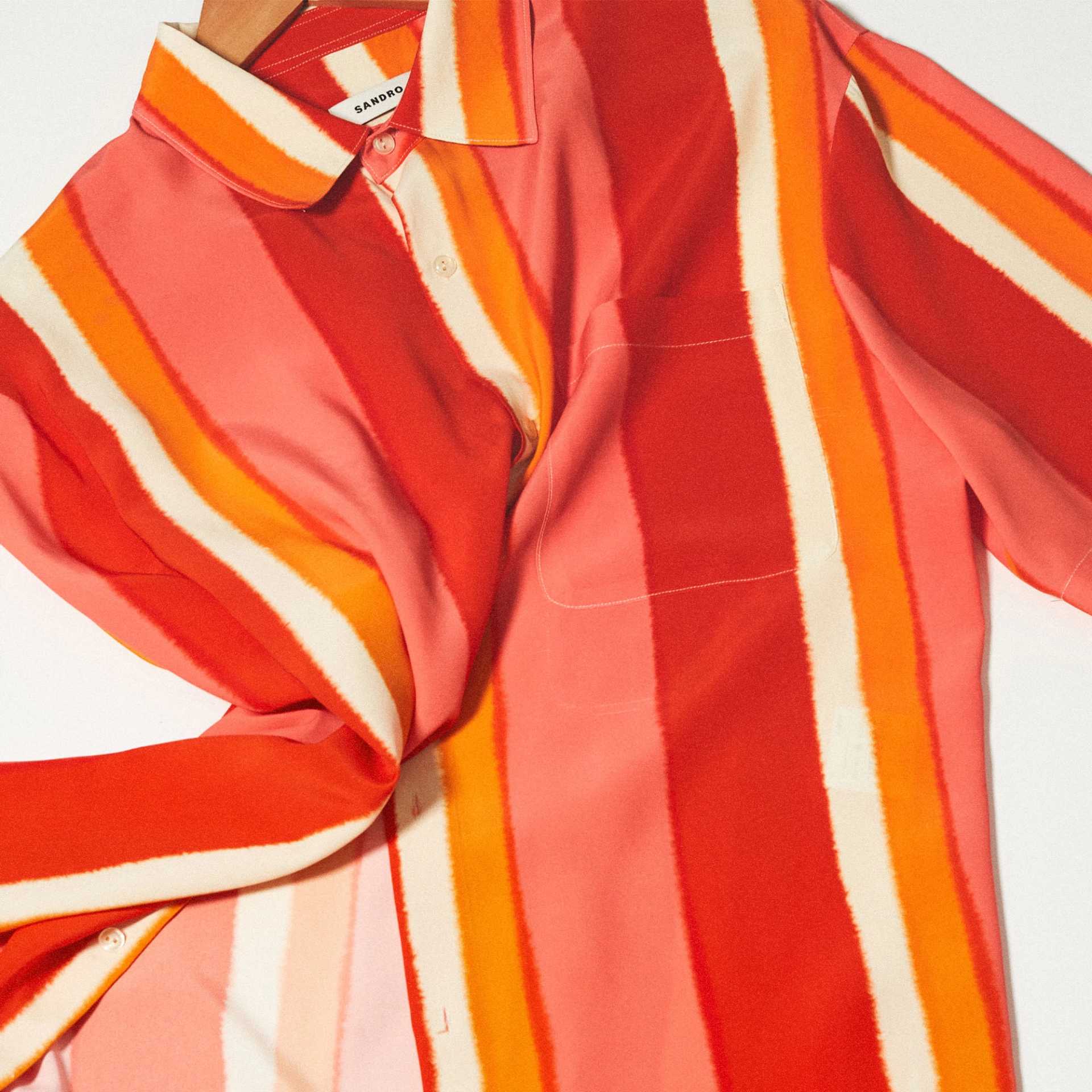 VISCOSE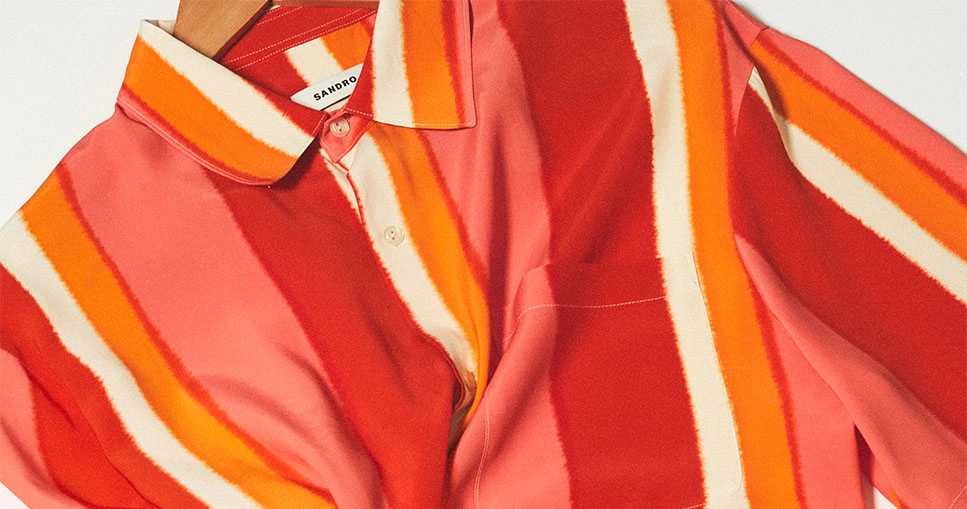 A staple of the textile industry, viscose is an extremely versatile material that allows you to create fabrics that are durable, soft, drapable and comfortable to wear.

It is obtained through a chemical process that recreates artificial fibres using plant cellulose from wood, cotton, bamboo or eucalyptus. Generating pollution and consuming a lot of natural resources, a growing number of producers want to make this process more responsible, by taking action on both forest management and the fibre manufacturing process.

At Sandro, we're sourcing more and more viscose with cellulose from sustainably managed forests.

To go one step further, we're also increasingly using LENZING™ ECOVERO™ viscose for our creations. Certified by the European Ecolabel, ECOVERO™ viscose generates up to 50% less CO2 and water consumption compared to conventional viscose. The wood used in the manufacture of these fibres is also from sustainably managed forests.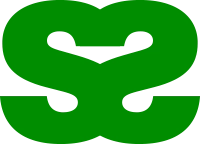 2022
Where we are now:
45% of the viscose used by Sandro was from sustainably managed forests or the ECOVERO™ brand.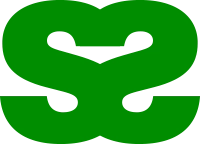 2025
Our commitments:
100% of our viscose will come from sustainably managed forests or the ECOVERO™ brand.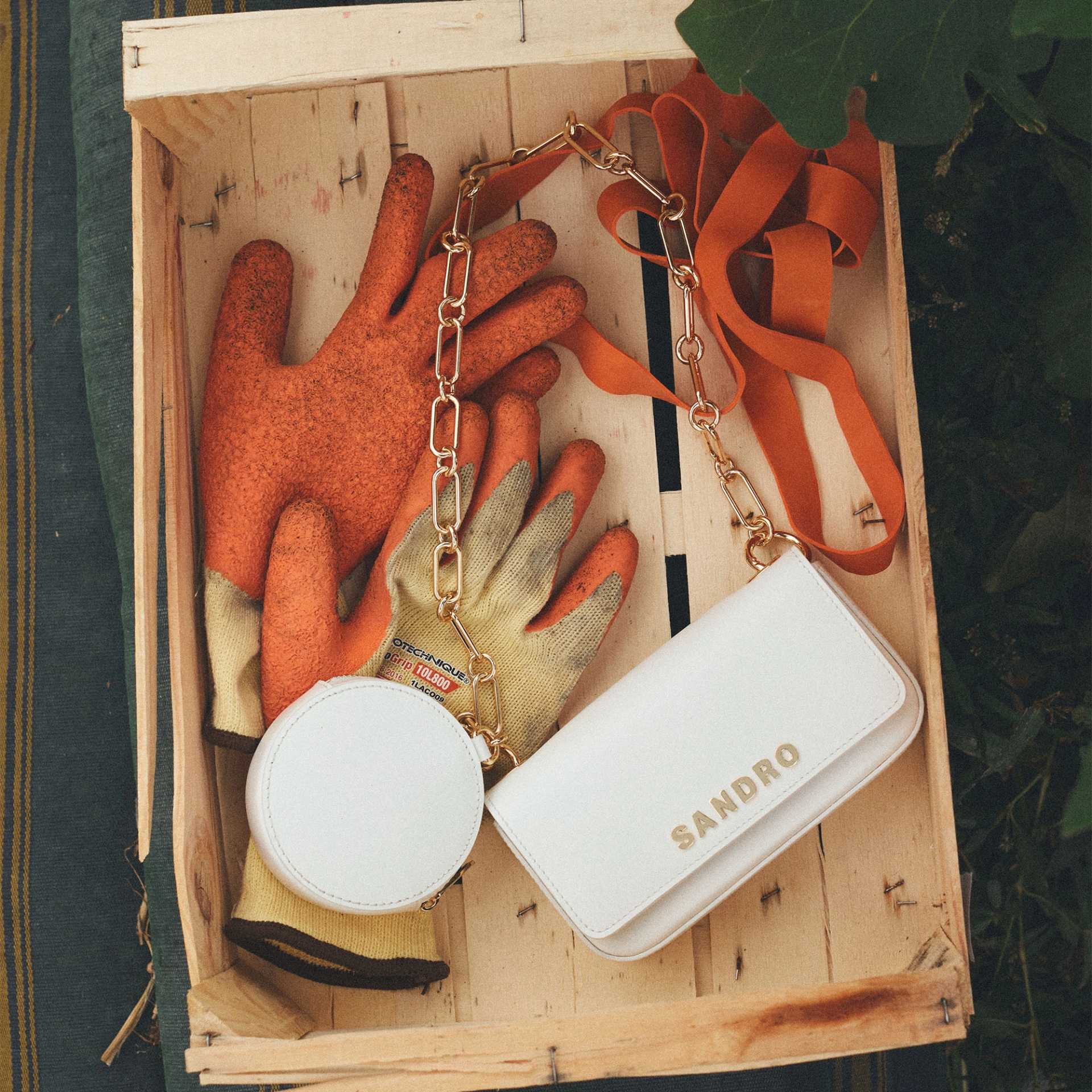 LEATHER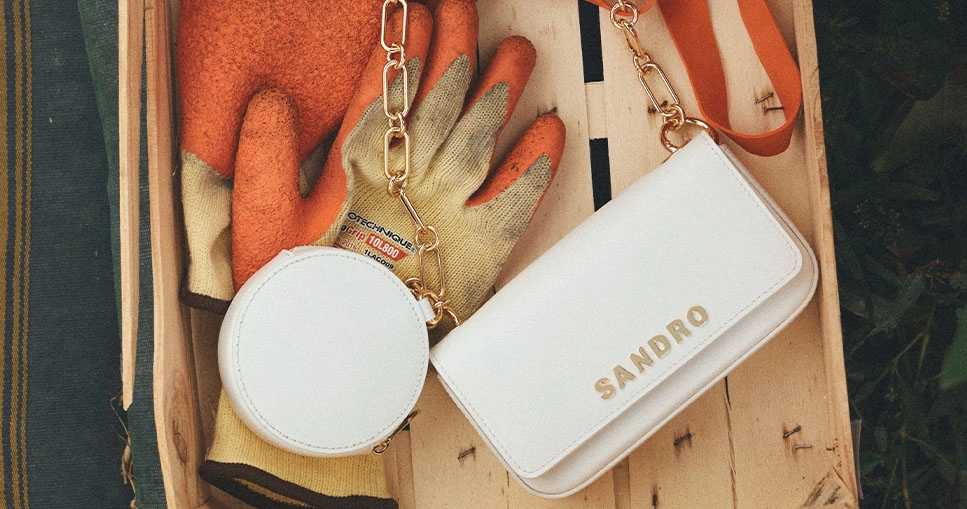 Leather, an inimitable natural material, combines flexibility, structure, elasticity and durability.

Thanks to its many properties, creations made from leather are extremely long-wearing. All our leathers come from animals in the food industry. In fact, leather is upcycled from one of the industry's by-products: hide.

Its main environmental issues are linked to greenhouse gas emissions produced by farming, the quantity of chemicals used, the types of runoff/waste, in addition to the vapour and dust generated during tanning.

This is why, at Sandro, we're members of the Leather Working Group (LWG), an initiative that certifies tanneries conforming to the best industry practices in terms of water consumption, energy consumption and the use of chemicals. The leather products featured in our more sustainable collections are from Silver or Gold certified tanneries, i.e. tanneries in the two strictest tiers of this certification.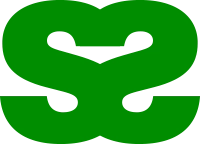 2022
Where we are now:
60% of the leather used in our collections came from audited tanneries with high environmental performance.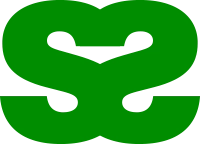 2025
Our commitments:
100% of our leather will come from audited tanneries with high environmental performance.
POLYESTER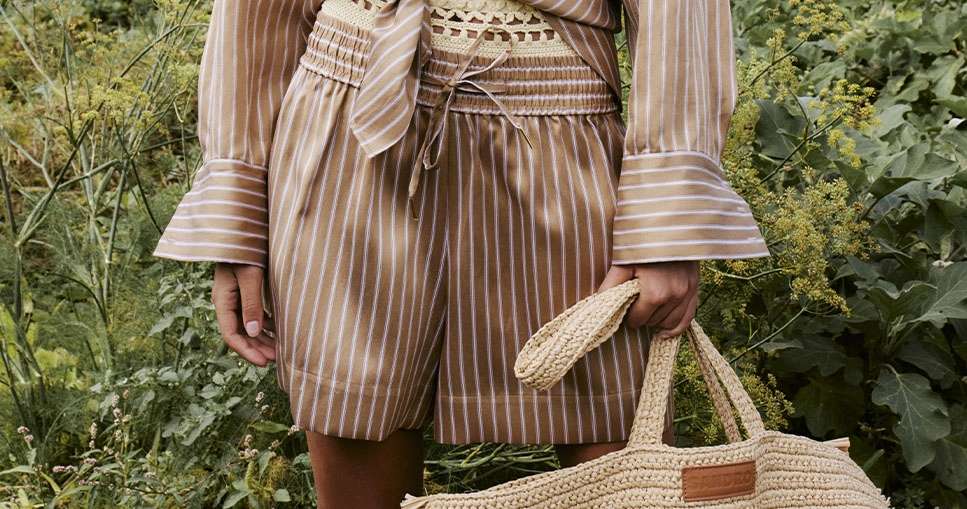 At Sandro, we select our materials with care. Our stylists are always striving to offer you fabrics that give creations the most beautiful drape, the best comfort and the highest durability possible. ​

To achieve this, the use of polyester or synthetic fibres is sometimes required. For example, polyester can be pleated whilst other materials can't. It is also less prone to wrinkling.

Conscious of polyester's environmental impact, we choose recycled polyester with a GRS or RCS label for our creations wherever possible.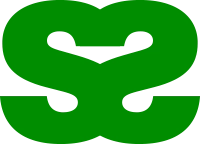 2022
Where we are now:
In 2022, 40% of the polyester used in our collections was recycled polyester.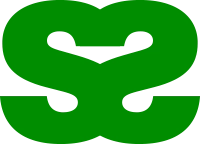 2025
Our commitments:
85% recycled polyester in 2025.
CARING FOR OUR MATERIALS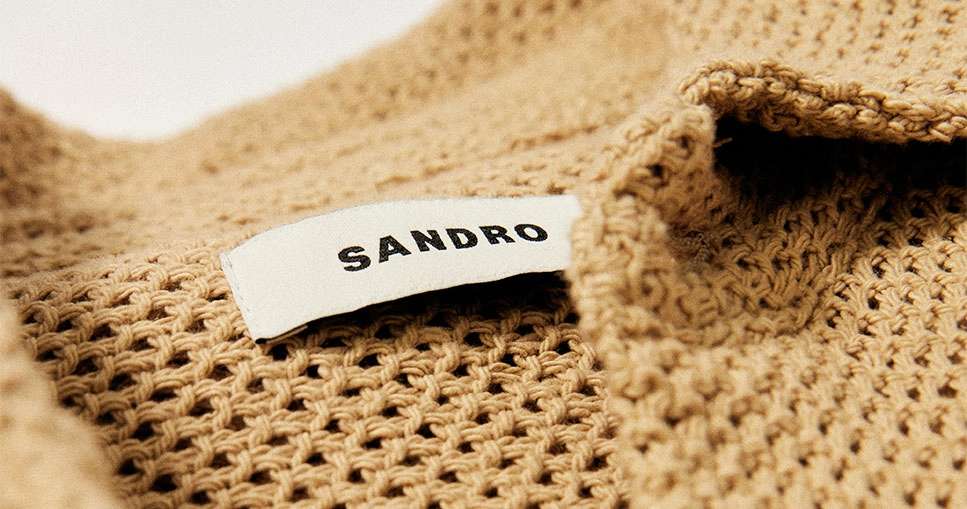 At Sandro, we believe an important step in moving towards more sustainable fashion is creating pieces that stand the test of time.

Made with the greatest care, from materials selected for their quality, Sandro clothes and accessories are designed to last.

However, they require special attention to keep them looking their best. This is why our quality team made a point of writing a detailed care guide for each material, to help you look after your Sandro creations and keep them beautifully wearable, season after season.

Before washing your item of clothing, we encourage you to read the instructions written on the label.
If marked "do not wash", we recommend entrusting it to a professional.
Discover our care guide
OUR PRODUCTION PROCESS
It is in design studios and garment workshops in the heart of Paris that the prototypes for the Sandro collections are made.

Production takes place at 110 partner sites in 30 countries, including Portugal, France, Italy, Turkey, China, Serbia, Bulgaria and Tunisia. When selecting partners, we use a process based primarily on the search for technical—sometimes rare—expertise, as well as social and environmental audits.

In addition to the suppliers with whom we've fostered long-standing partnerships, we are constantly looking to strengthen the traceability of our collections to reveal every step of our production chain, right back to the raw material.

Our daily concern is also to produce in a better way, i.e. produce as close as possible to what we need. This is why we've implemented a new set of demand-planning tools in order to better adjust the volumes produced, increase distribution agility and therefore limit the amount of leftover stock at the end of a season.
Distribution of production in 2022
(Tier 1 suppliers)

*Includes Turkey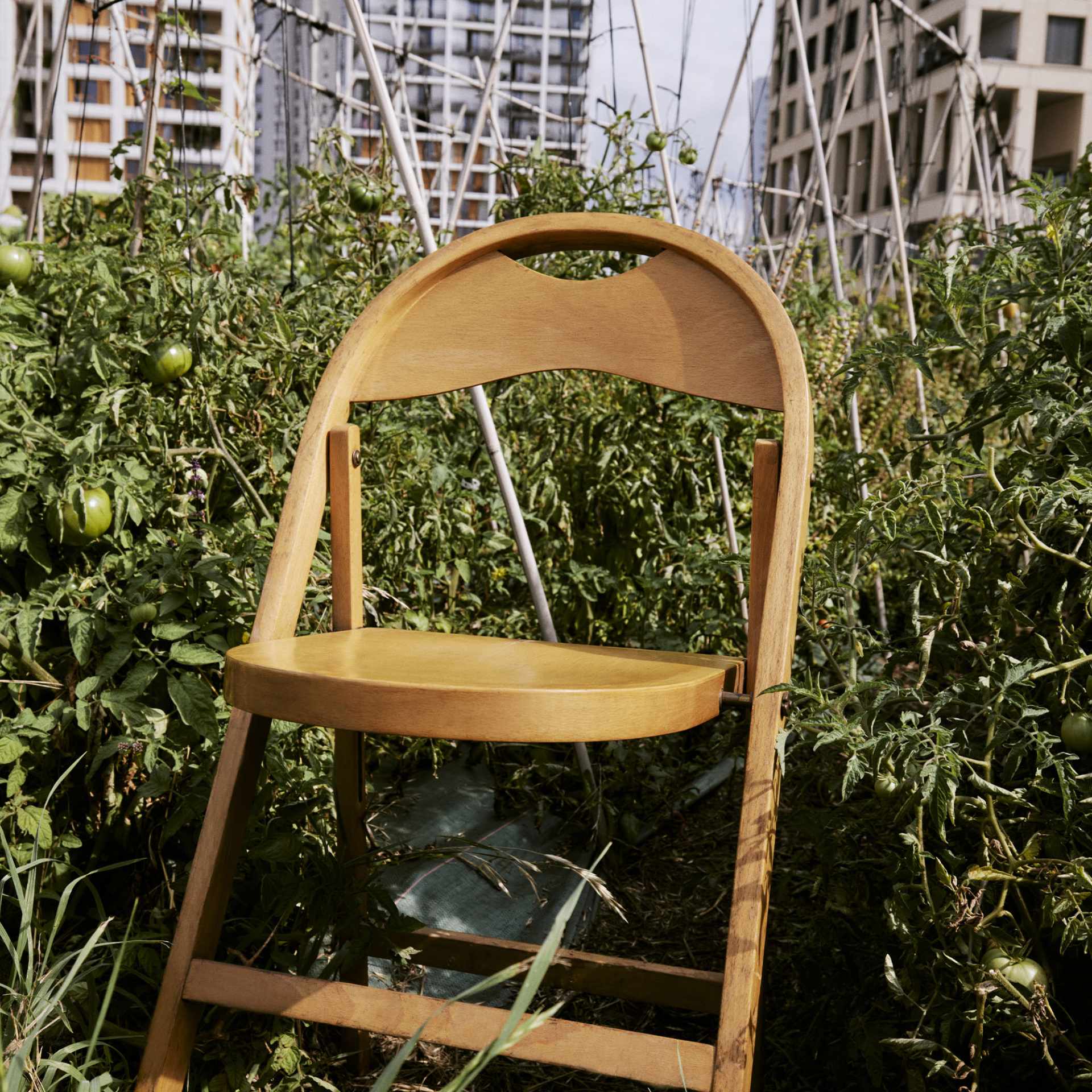 Supplier auditing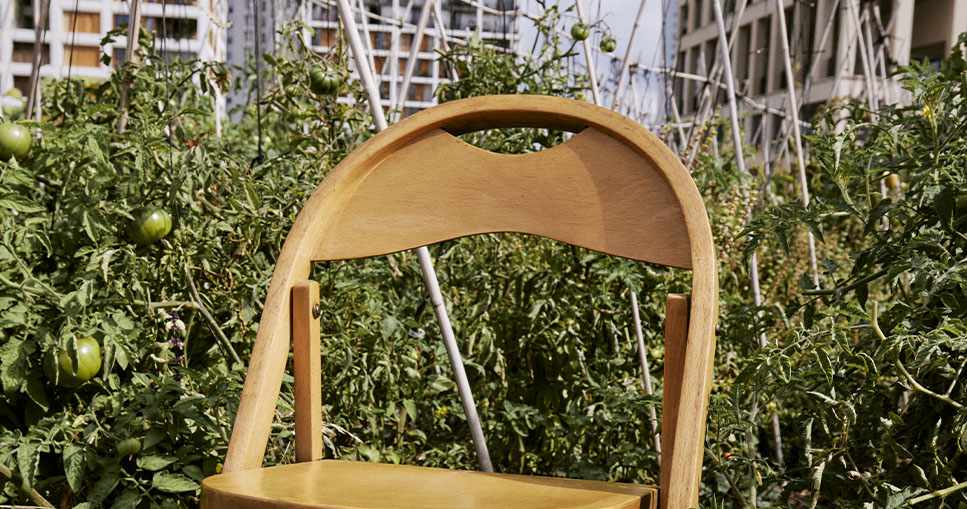 With our social and environmental compliance policy, Sandro is committed to more ethical and sustainable production. Lots of our suppliers and manufacturers are long-standing partners who have grown with Sandro. Today, we maintain close ties with them whilst taking care to respect our social and environmental standards.

The social and environmental compliance policy for our suppliers is based on the following measures:

• All suppliers must sign a code of conduct outlining our requirements in detail. ​

• When referencing a new supplier, social audits or the social certifications of their manufacturing sites must be collected and reviewed.

• Social and environmental audits must be carried out, whether conducted by Sandro or requested by other companies according to the standards recognised by the SMCP Group (BSCI, Sedex, WRAP, WCA, and the SA8000 for social; ISO 14001, bluesign, STeP by OEKO-TEX for environmental). ​

• Any nonconformity identified during the audit must be followed up with the implementation of corrective action plans.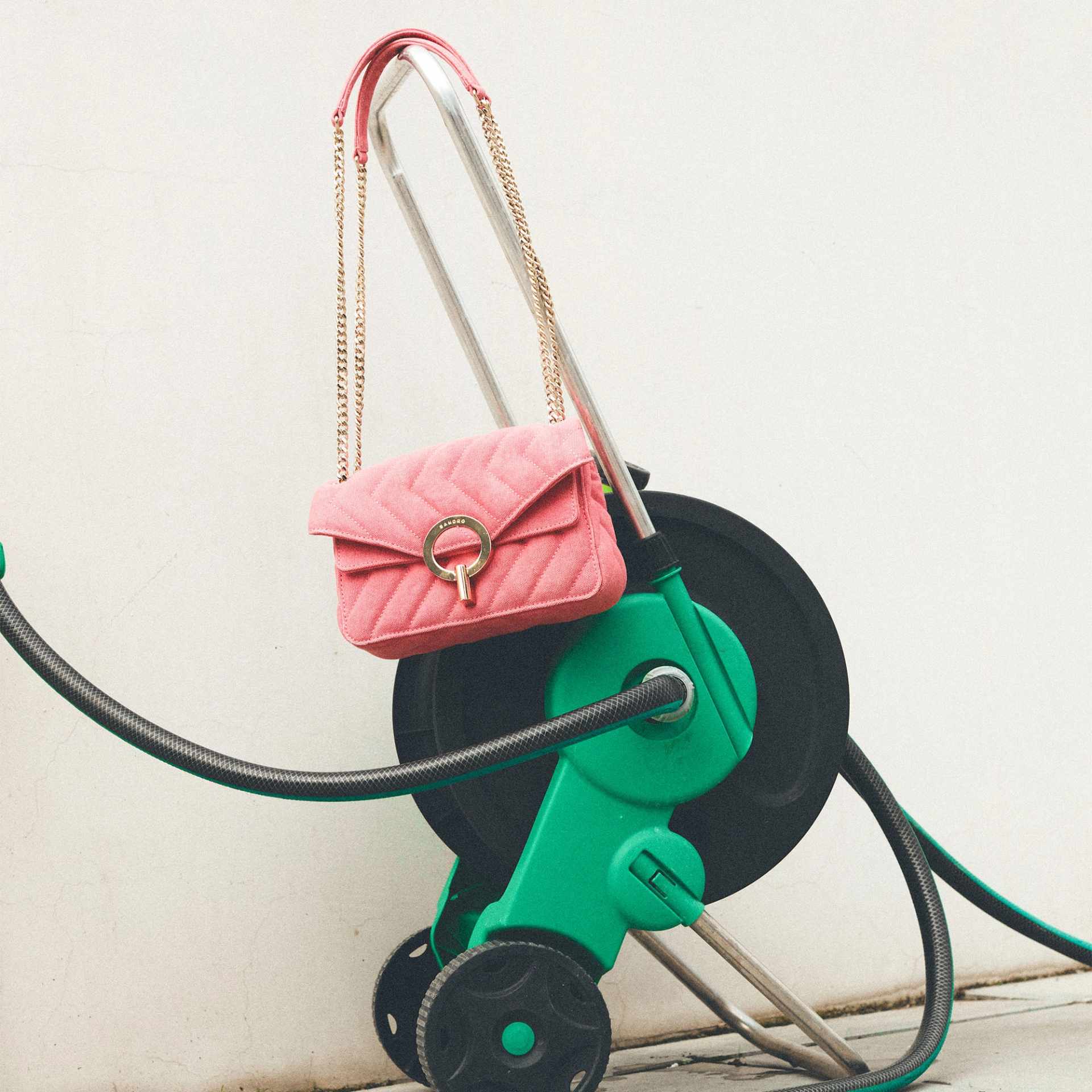 TRACEABILITY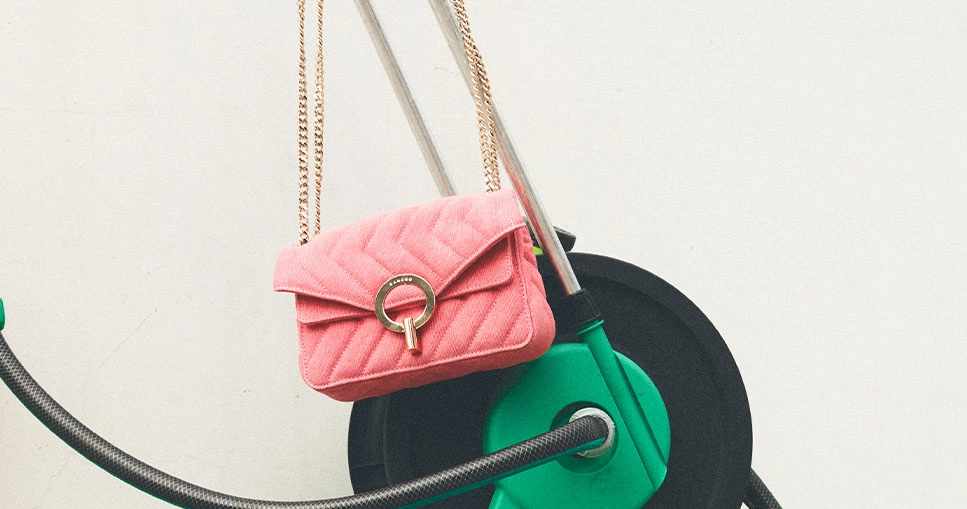 As part of our commitment to move towards more responsible fashion, one of our priorities is to continue working on our awareness of the production chain and to offer greater transparency about the origin of our creations.

This is why, in partnership with the French green tech start-up Fairly Made, we're retracing the journey made by a number of our creations, starting with the Summer 2022 collection. This means, more specifically, that we identify every tier of supplier involved in the production chain of our product. A supplier's tier indicates our degree of proximity to them. For example, tier 1 refers to the suppliers who cut and construct our pieces. This is the final step in the manufacturing process before the product is launched onto the market.

Via a QR code on the product's label or on the product page of the website, we provide—with complete transparency—information regarding the suppliers involved at every stage of the production chain.

From the origin of the raw materials to the manufacturing and processing plants, to the kilometres travelled before arriving at our warehouses in France, the traceability record outlines all these steps as well as the designated traceability score.
THE TRANSPORT AND DISTRIBUTION OF OUR COLLECTIONS
After manufacturing, our collections are sent to our physical points of sale in 40 countries, or straight to customers when they order online.
To reduce the impact of our distribution, we are working on the design and management of our points of sale and maximising the use of low-carbon transport and delivery methods.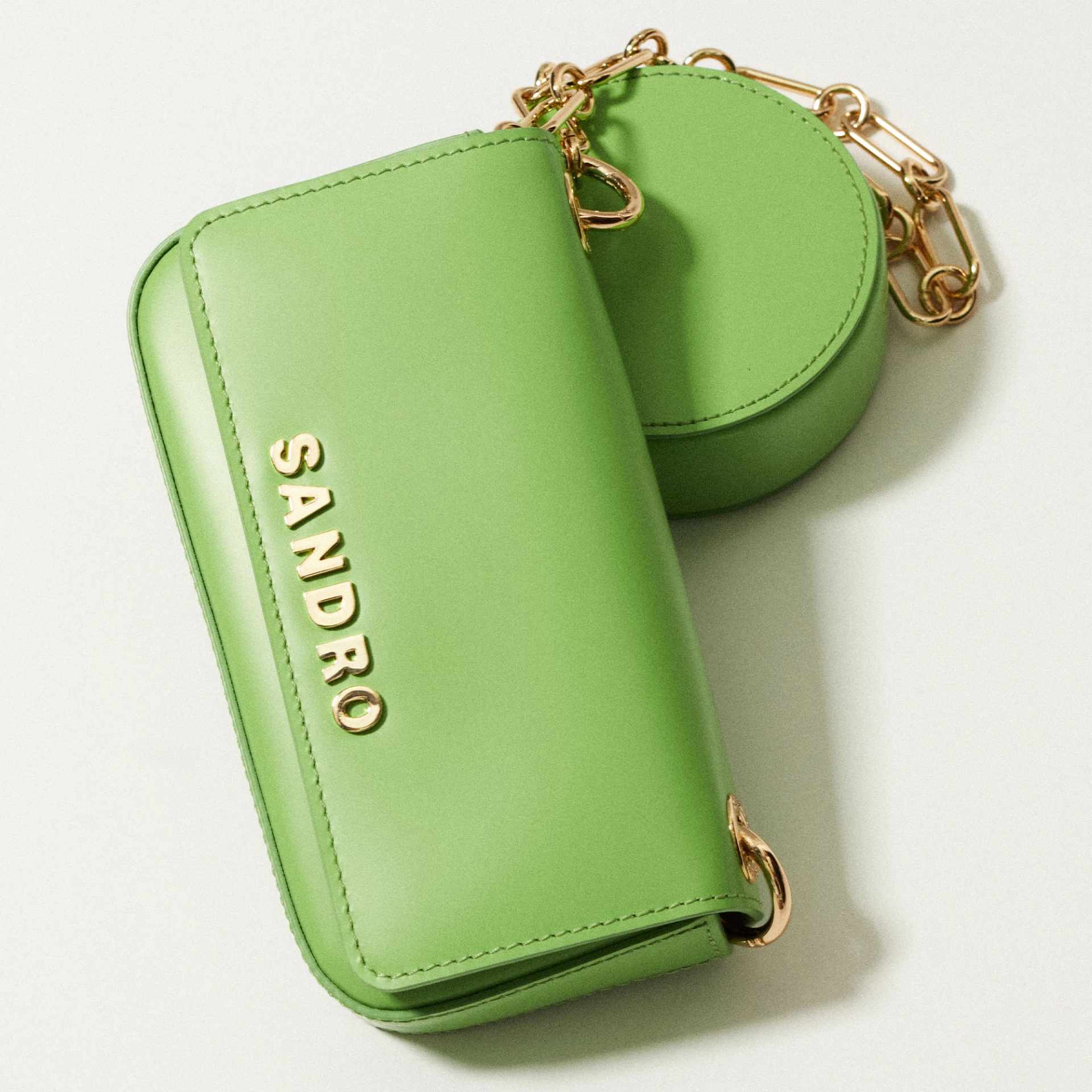 ENERGY CONSUMPTION AND SHOP FITTINGS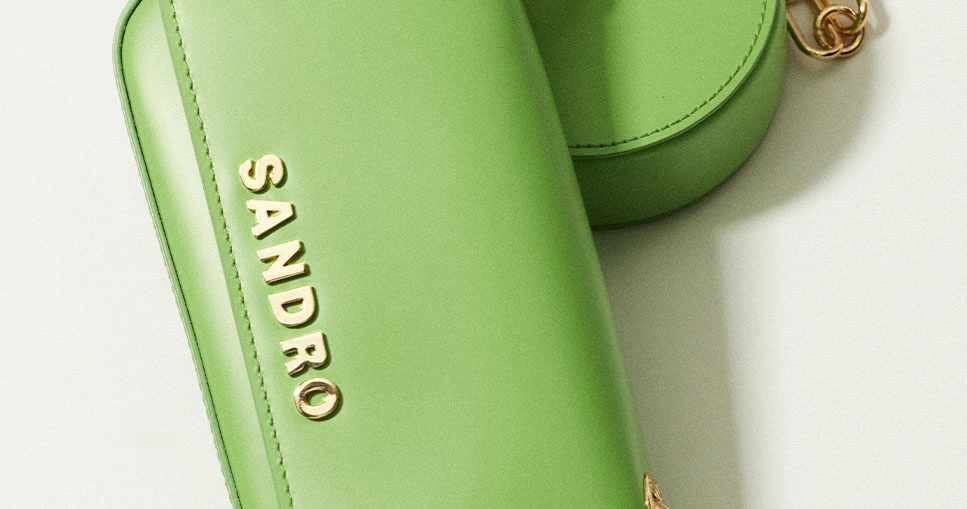 We strive to continually reduce energy consumption at our points of sale by using low-energy lighting, minimising air conditioning, heating and the lighting time of our windows.​

Plus, to reduce the greenhouse gas emissions produced by our stores, we have green electricity contracts when possible.​

Furthermore, we favour recycled and recyclable materials for shop fittings. Since 2020, we have been working to redesign all our stores using a new concept incorporating eco-design criteria, using more sustainable materials in particular (lime-based mineral wall plaster, natural pigments and marble powder, wood from FSC-certified forests, LED lighting, etc.).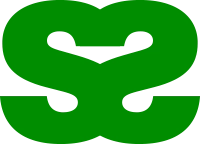 2022
Where are we now?

100% of our French branches have green electricity contracts.​

The lighting in all our French and European stores is turned off no later than 10 pm.

100% of our openings and renovations follow our new concept integrating eco-design criteria.​

Our shopping bags are made from FSC-certified paper and reinforced with greyboard, a recycled and recyclable FSC-certified cardboard.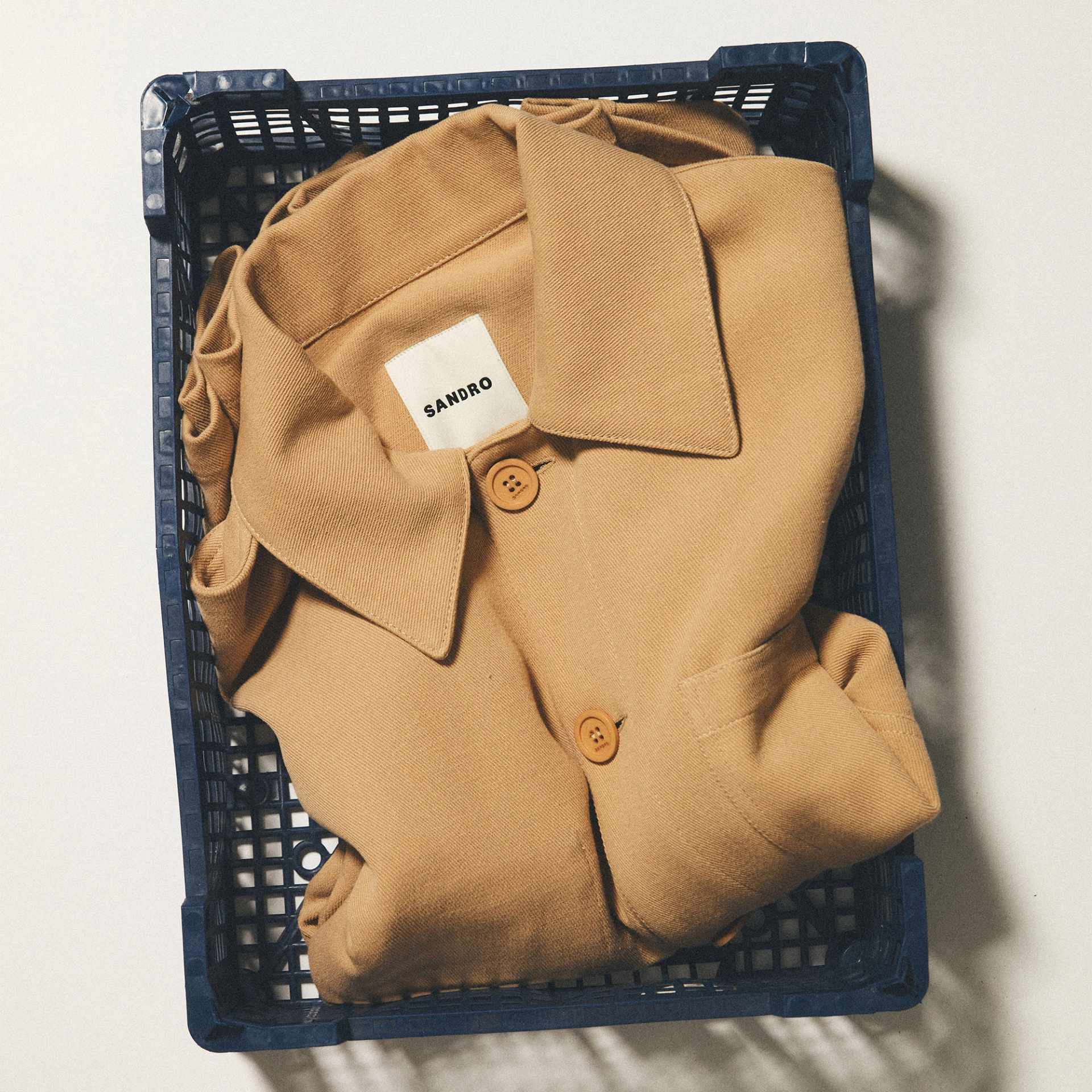 TRANSPORTING OUR PRODUCTS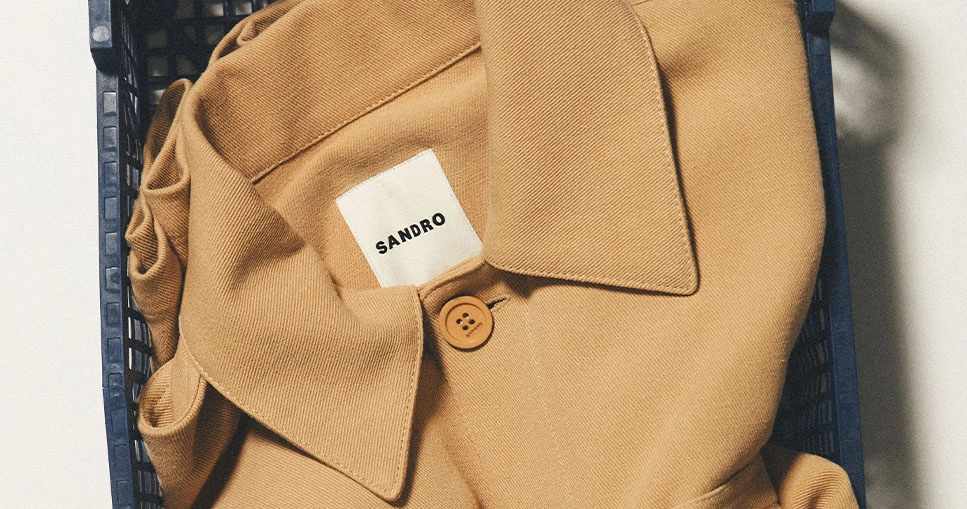 In order to limit the CO2 emissions linked to the delivery of our products to our warehouses, we favour boat, road and rail over air transport.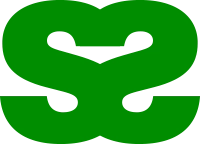 2022
Where we are now:
78% of our products have been delivered to our warehouses by land or sea.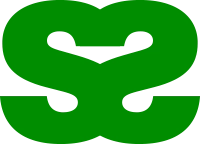 2025
Our commitments:
90% of our products will be delivered to our warehouses by land, rail* or sea.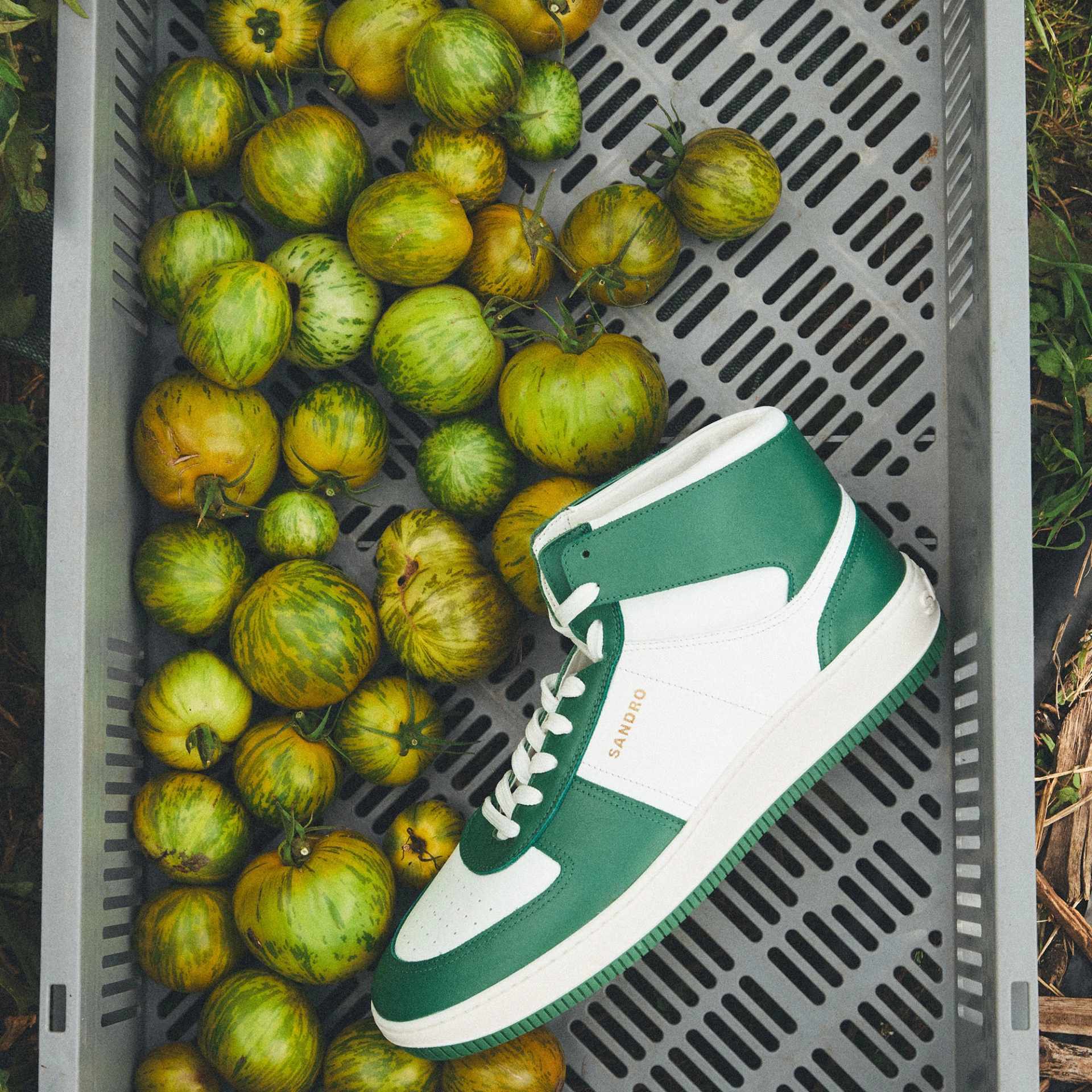 ONLINE ORDERS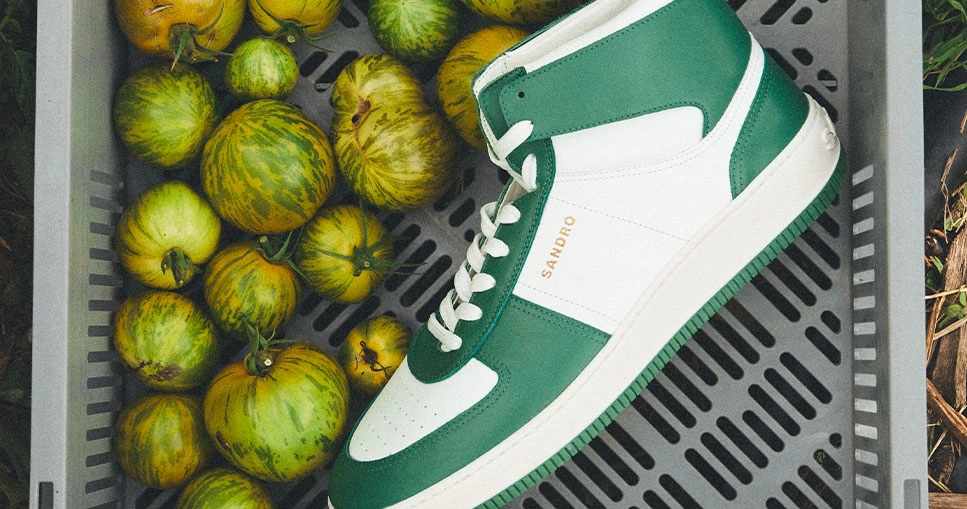 To limit the impact of online purchases, we're working on the packaging and delivery of your orders. With this in mind, we also encourage customers to return and exchange their items in store.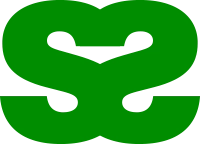 2022
Where we are now:

Our e-commerce boxes are FSC certified and 100% recyclable. They are designed to be easily resealed and reused in the event of returns.

On our French Sandro second-hand website, we offer reusable Hipli packaging.

Some of our e-commerce orders, especially in Europe, are dispatched from our stores closest to the delivery location to limit the kilometres travelled.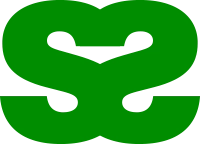 2025
Using reusable packaging for all Europe deliveries.
SECOND HAND AND RENTING
Since the environmental impact of our clothing is also tied to how it's used and where it ends up, Sandro helps customers to care for, use and pass on their pieces.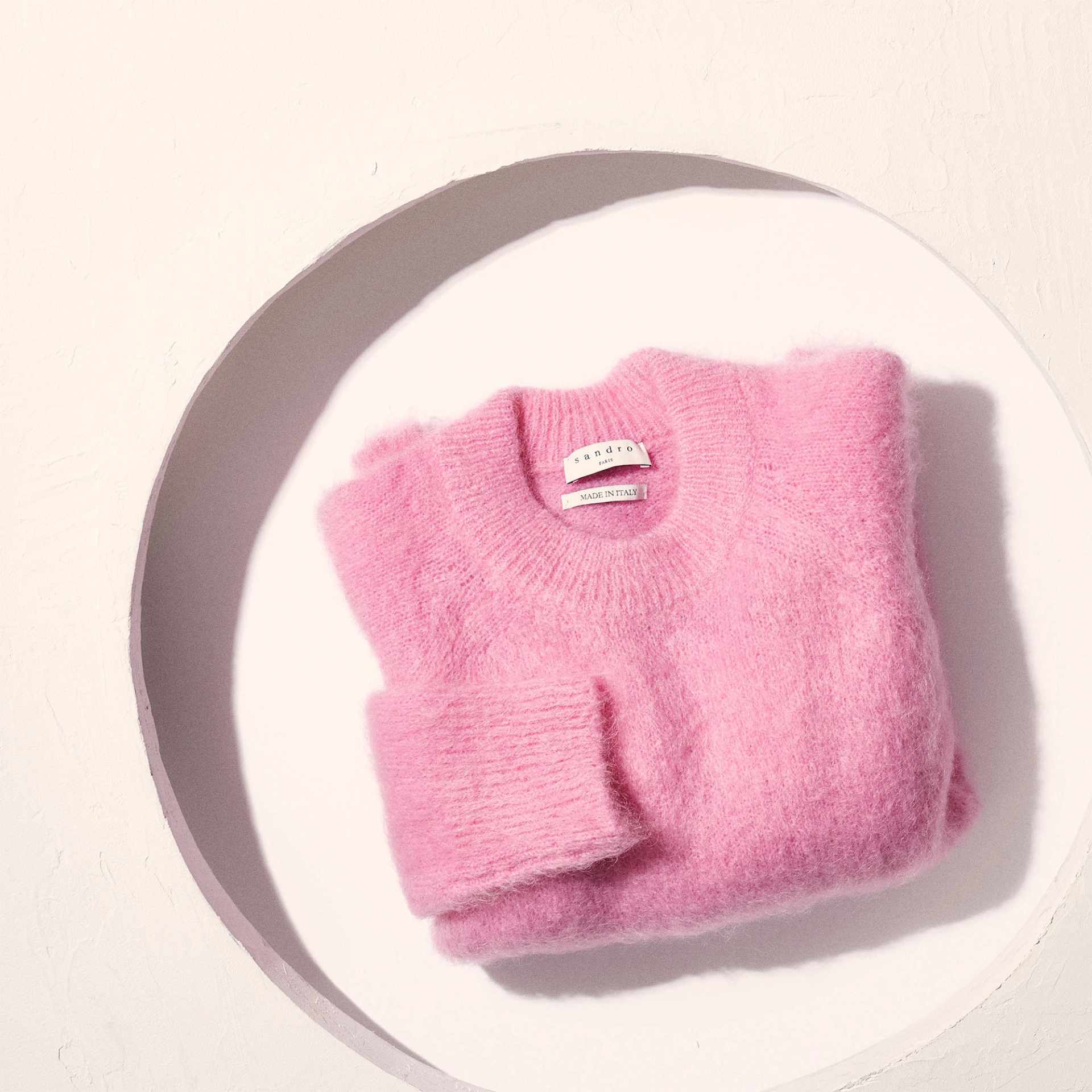 SECOND HAND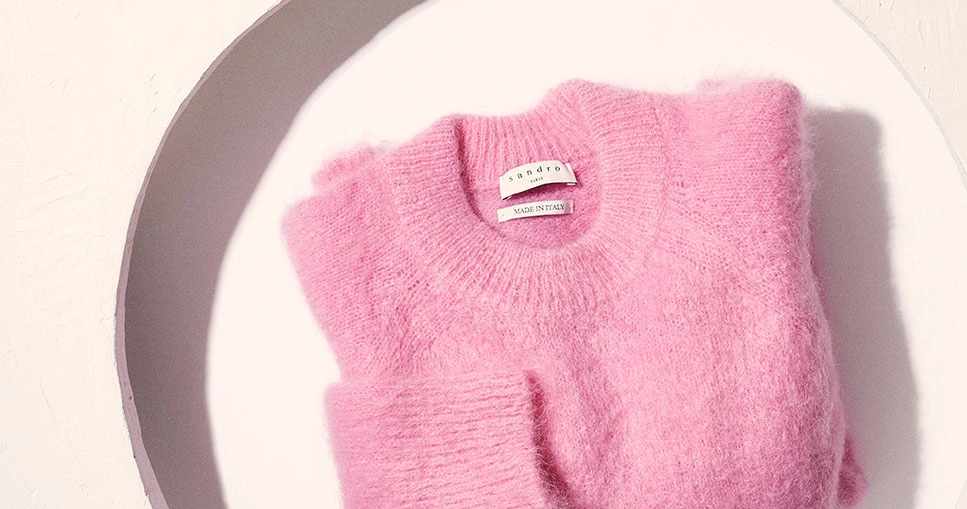 Driven by our teams' unwavering convictions, Sandro is reaffirming its commitment to helping the transition towards more responsible, sustainable and circular fashion. Convinced that the longevity of collections goes beyond the season for which they were created, Sandro wanted to open up a new chapter for them, responding to current concerns by launching the new Sandro Second-Hand service.

Sandro wanted to make the process as easy as possible for people wanting to resell items and has simplified each step as much as possible. After filling out a form on the Sandro Second-Hand website, the seller sends their pieces to our logistics partner. Following authentication and quality control, they'll receive a voucher. This voucher can be spent on new or second-hand Sandro pieces, either in store or online. The seller's sent items are then relisted on the platform, offering a quality shopping experience in keeping with our brand.​
​

This circular approach constitutes a new key step in the CSR commitments made by Sandro, initiated several years earlier by Evelyne and Ilan Chetrite.
​
Discover our second hand website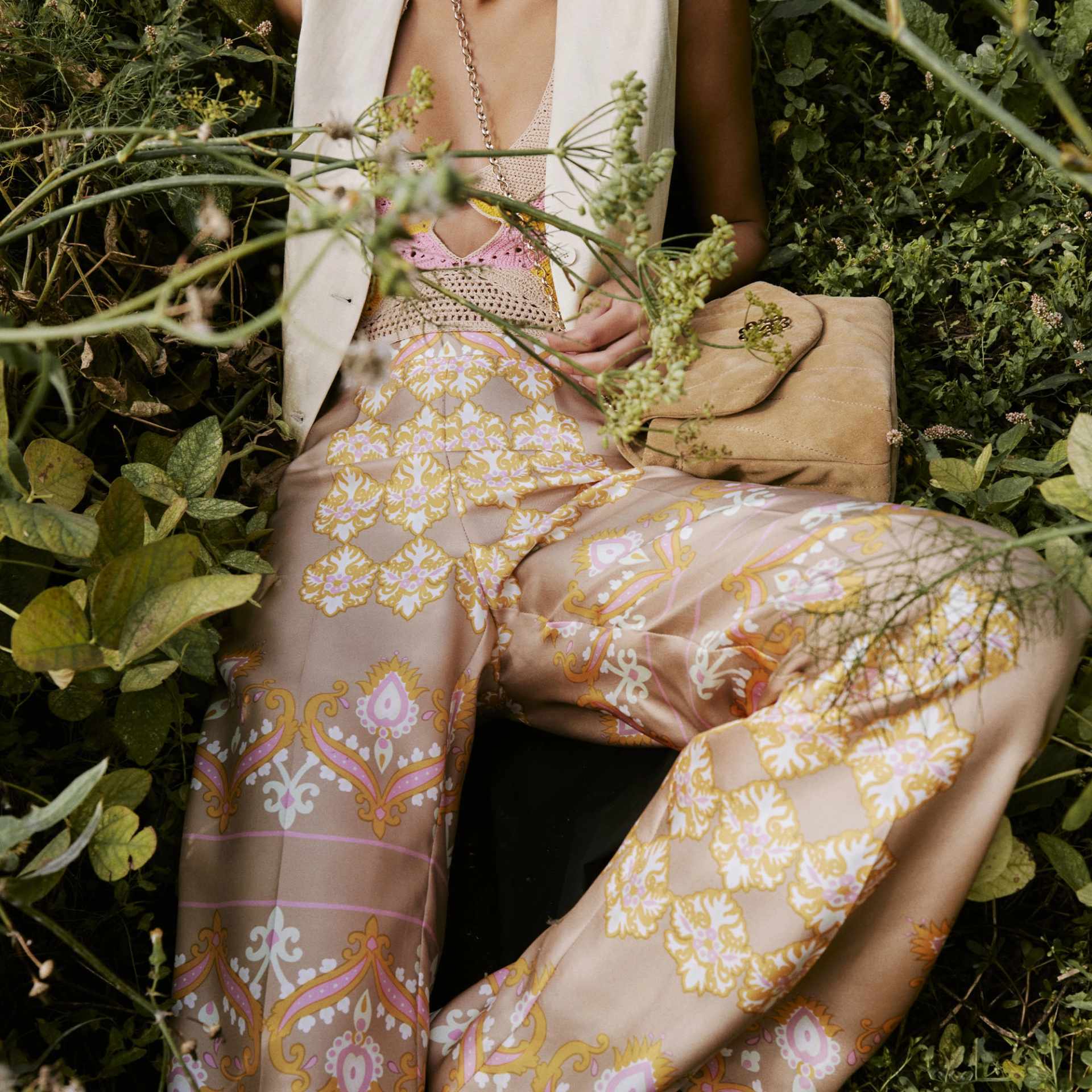 RENTING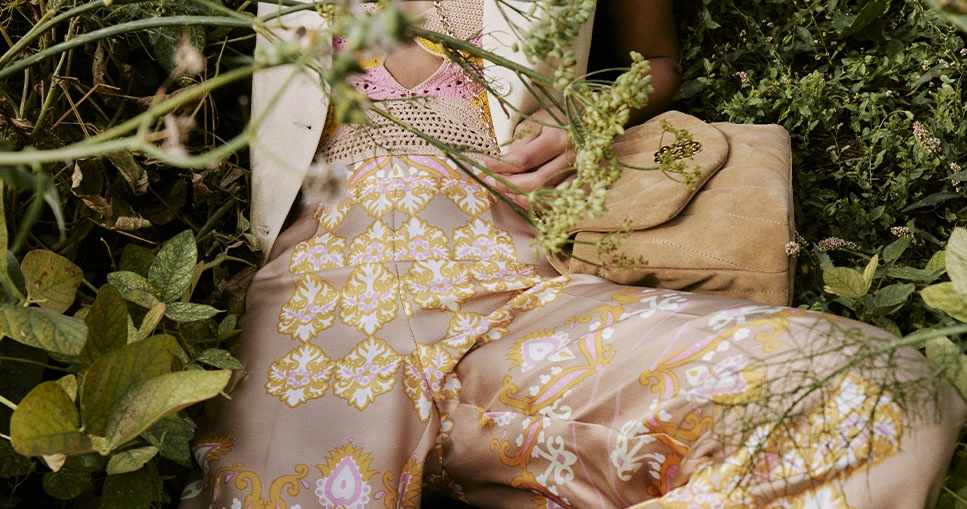 In line with its commitment to creating more sustainable fashion and the launch of its second-hand website, Sandro is offering a new circularity service: renting.

Thus, as of this year, Sandro will be collaborating with the renting platform HURR in the UK to allow you to rent a selection of its most beautiful creations, for events or every day.

With this step towards renting, Sandro reiterates its commitment to support more circular ways of consuming. Sandro's hope is to make this service available in all countries where they operate.
SANDRO FUND
The SANDRO – TOGETHER FOR THE FUTURE endowment fund was set up in 2021. Behind this project lies SANDRO's commitment to making concrete steps towards more responsible fashion, through enabling a large community of customers, partners and employees to engage with different social and environmental causes. The fund is also an extension of the altruistic vision shared by Evelyne and Ilan Chetrite, Sandro's founders and creative directors.
6 charitable initiatives set up since the creation of SANDRO - TOGETHER FOR THE FUTURE
2022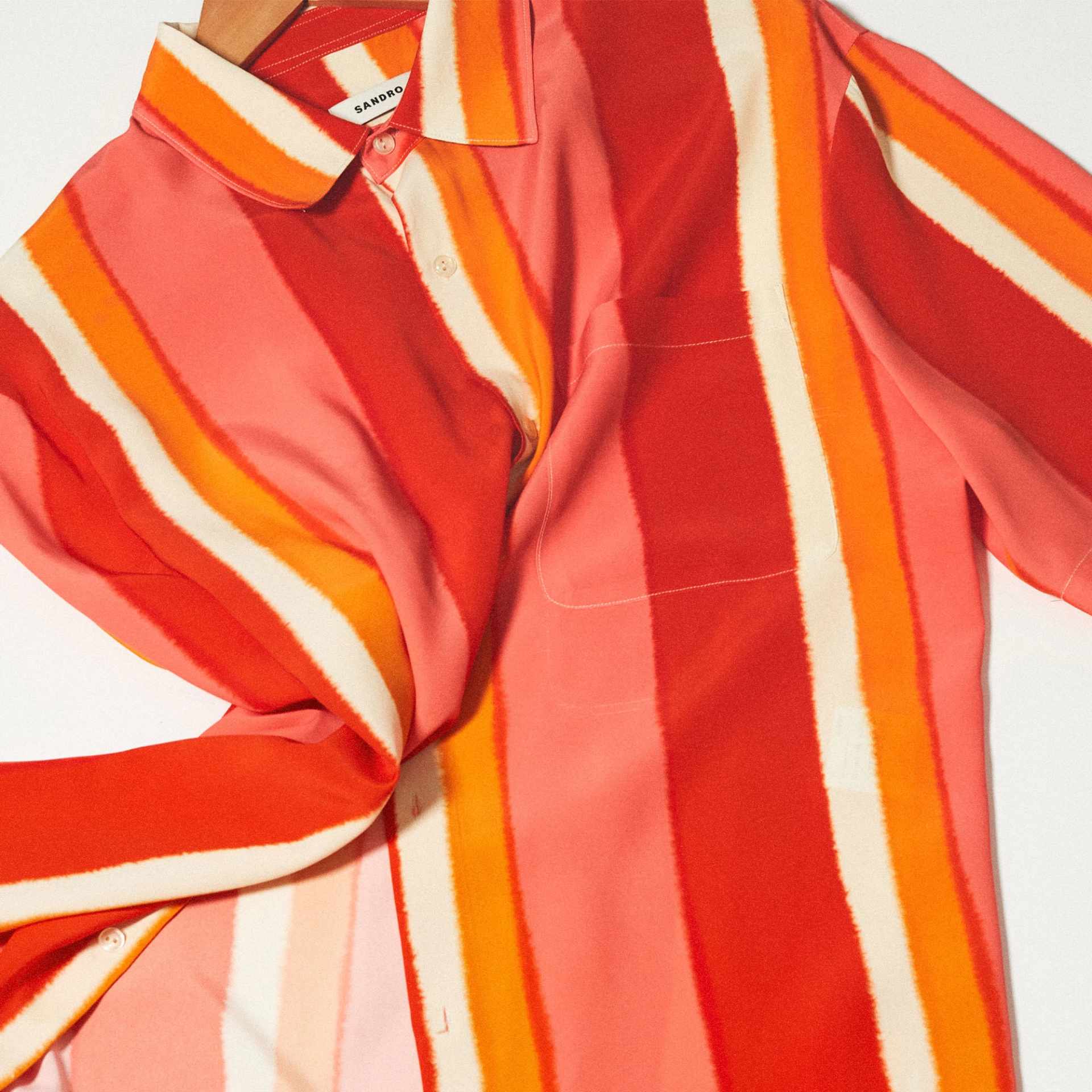 2021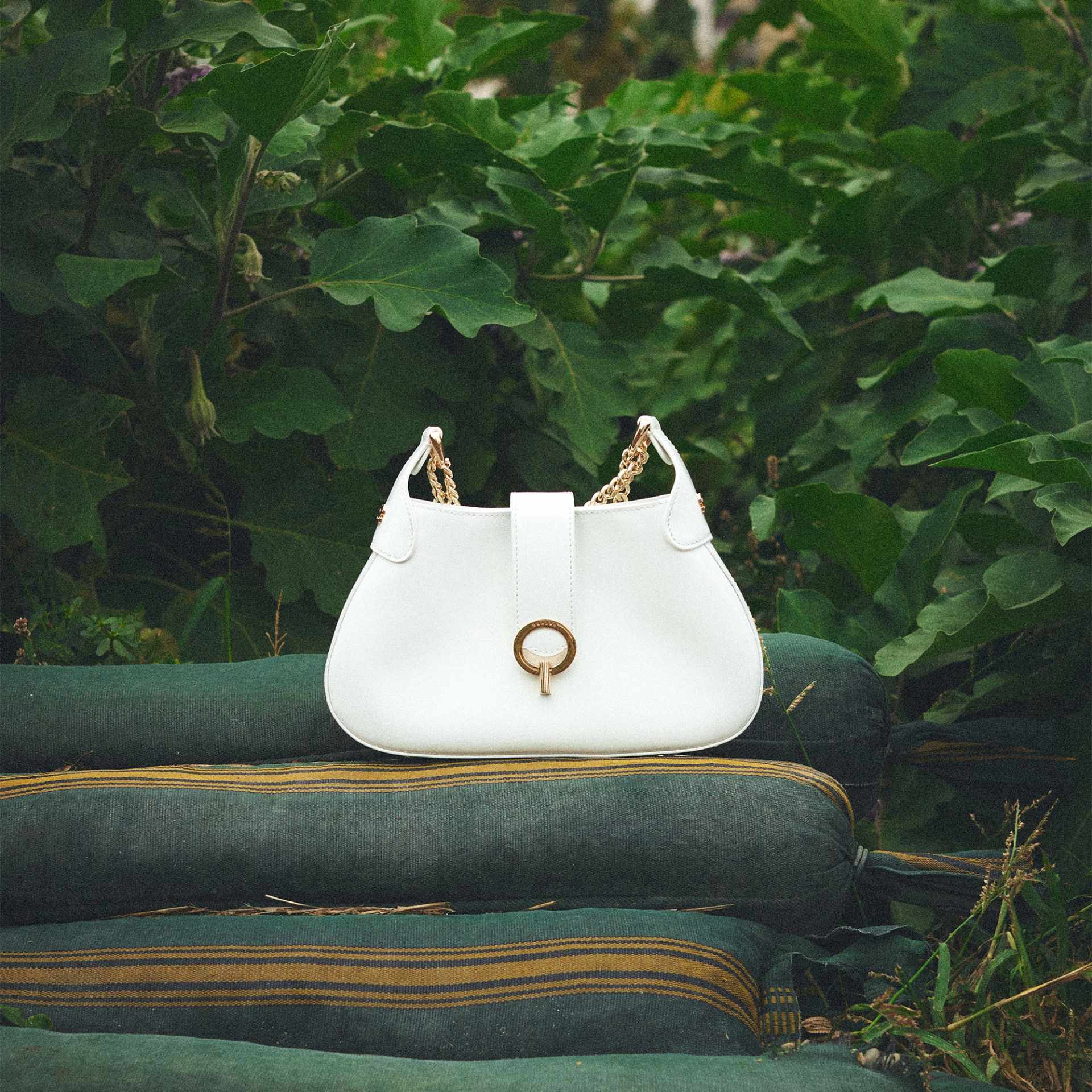 2020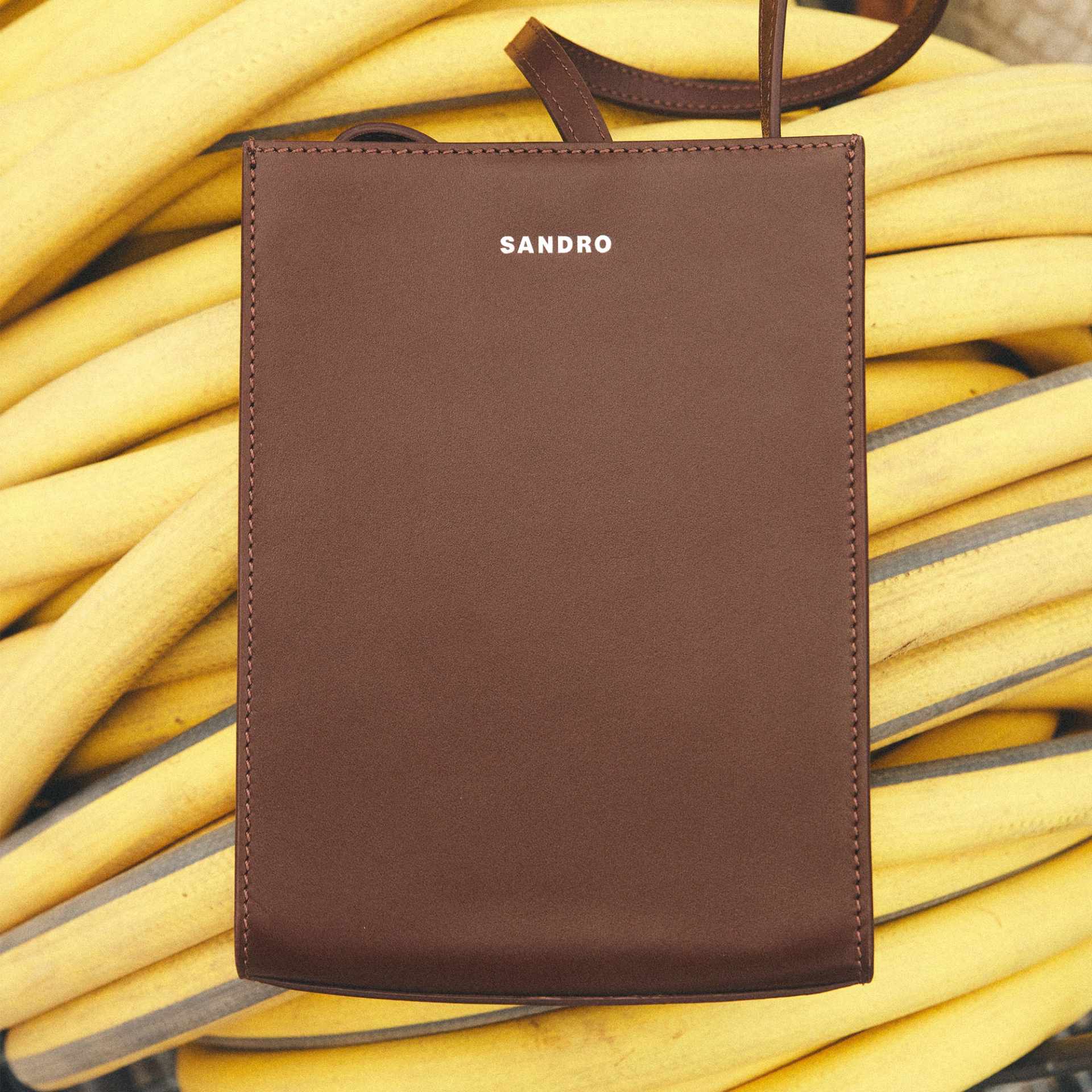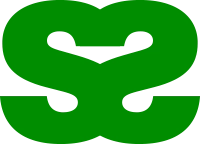 2022
Donations to GOODPLANET
In 2023, in celebration of World Environment Day on 5 June, the SANDRO TOGETHER FOR THE FUTURE fund is joining forces with the GoodPlanet Foundation. For any purchase made on this day, in store or on the SANDRO website, £10 from each transaction will be donated to the SANDRO solidarity fund. The total amount collected will then be donated to the GoodPlanet Foundation. Initiated by the SANDRO fund, this donation will enable GoodPlanet to raise awareness about the environment and inspire concrete action for the Earth and its inhabitants.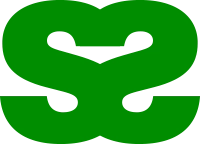 2021
Donations to PENCILS OF PROMISE (PoP)
In the second half of 2022, SANDRO engaged its community in a mobile game called BELIEVE. This game was designed to raise money for Pencils of Promise. This organisation works in developing countries, helping different communities gain access to education and improved sanitary conditions. As a result of this fundraising, a donation of €100,000 was made, facilitating the development of numerous charity projects, like the building of schools in Guatemala and Ghana.
Donations to the IT GETS BETTER PROJECT
Thanks to its previous work, the SANDRO TOGETHER FOR THE FUTURE fund was able to make a donation of €10,000 in June 2022 to the American It Gets Better association. The It Gets Better Project promotes the education, empowerment and independence of young members of the LGBTQ+ community all over the world.
Upcycled capsule 2: ENDLESS LOVE ACT II
For the Spring-Summer 2022 season, the womenswear studio designed Act II of the Endless Love collection. A 100% upcycled creative capsule collection was made using old stocks of linen and cotton. All profits were again donated to the SANDRO TOGETHER FOR THE FUTURE fund.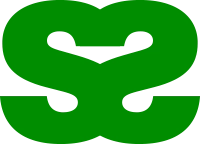 2020
Upcycled capsule 1: ENDLESS LOVE ACT I
In 2021, the SANDRO womenswear design studio gave fabrics from previous collections a new lease of life with a collection of upcycled pyjamas called "Endless Love Act I". All the profits from this collection were donated to the SANDRO TOGETHER FOR THE FUTURE fund.
Beyond the SANDRO TOGETHER FOR THE FUTURE fund initiatives, our commitment to social and environmental causes continues over the course of collections with donations:

- By donating fabric rolls, SANDRO supports students at fashion school and offers a more accessible experience.

- By donating their pieces, SANDRO helps young people with integration into the world of work, increasing their job opportunities.

- By donating old window décor to schools, hospitals and other social hubs, SANDRO provides style and warmth to institutions for free.

And since each action counts, SANDRO has its heart set on pursuing these commitments season after season.